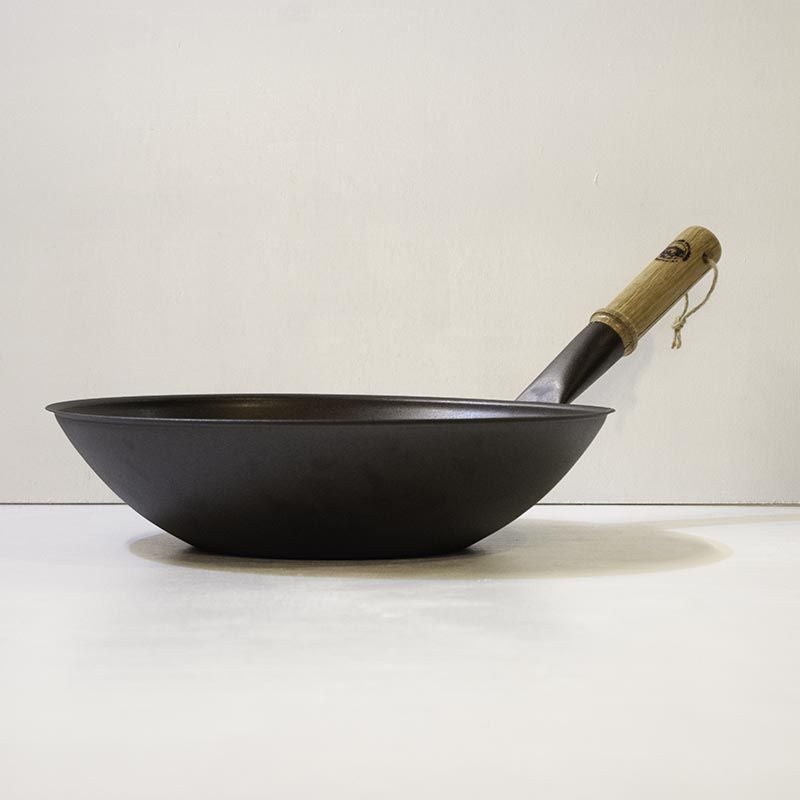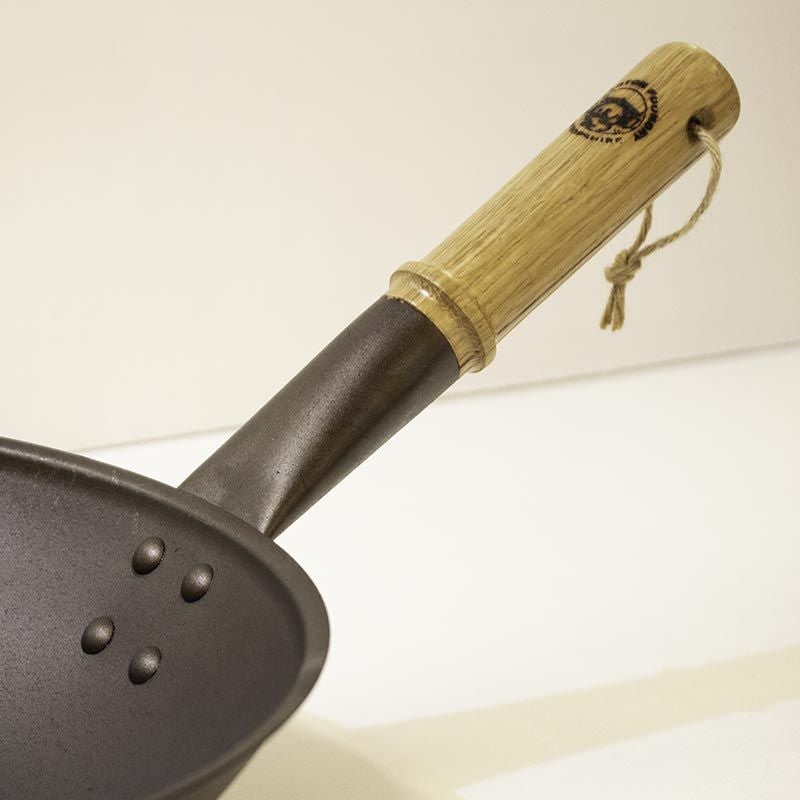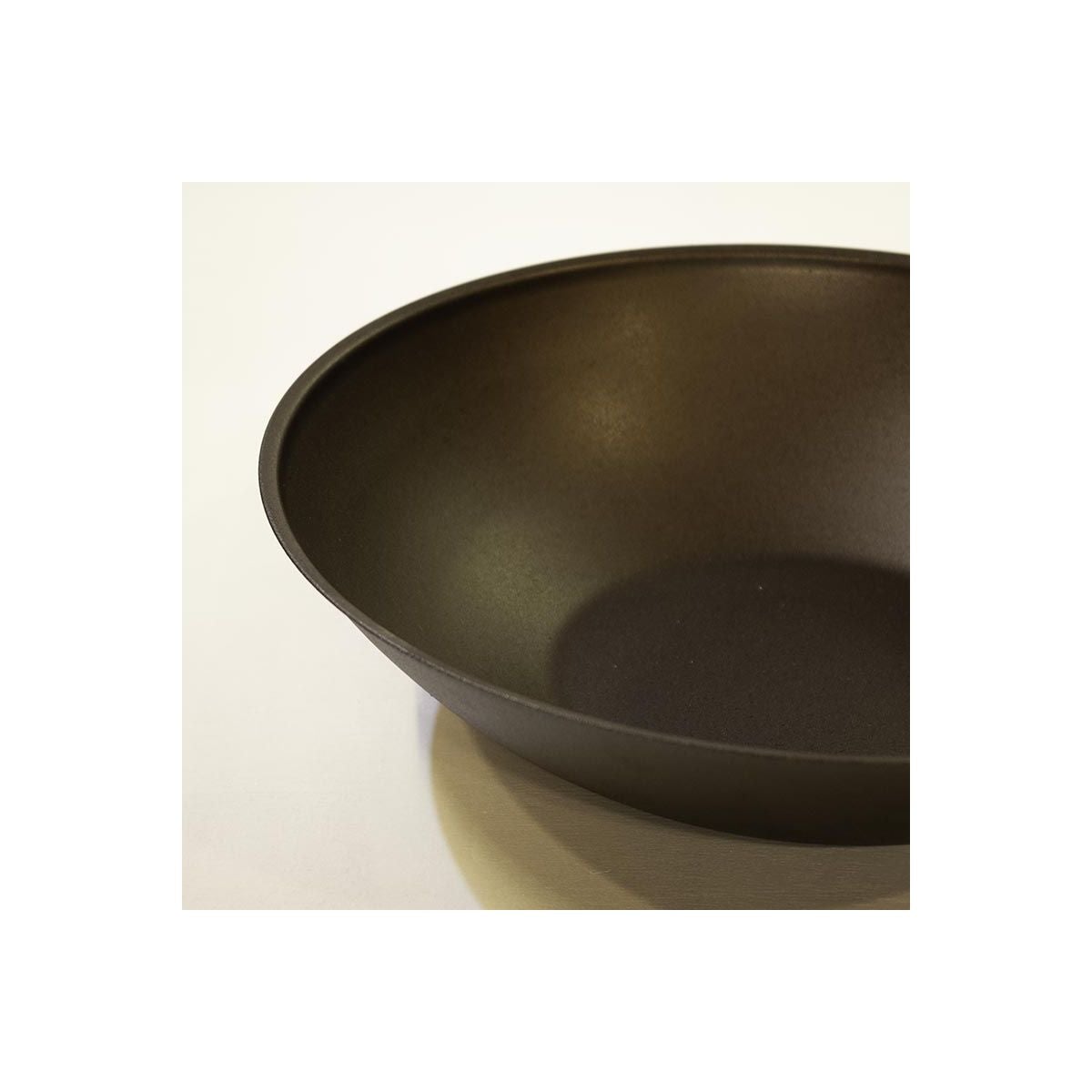 Netherton Foundry Spun Iron Wok 33cm
£78.99
Regular price
£79.40
Subscription • Save
Description
Delivery
Returns
Click & Reserve
Serious cooks and professional chefs love the way black iron pans heat evenly and give great cooking performance. The more you use your pan the better it gets as the seasoned patina develops.

The Netherton cold pressed Flax Oil is perfect to have on hand for re-seasoning duties. A matching lid is also available.
A couple of handy tips:
If you are cooking meat or fish, oil the food, not the pan
Be patient and allow the food to cook before trying to turn it over
Don't fry food straight from the fridge, allow it to come up to room temperature
The pan bodies are spun by hand, so each one is slightly different. The base will not be as flat as a billiard table.
If you do want to keep it as flat as you can, follow these simple guidelines:
Every time you use the pan, heat it slowly to frying temperature.
This is especially important if you are using powerful cooking hobs such as induction.
Use a hob the same size as the pan base, small rings will warp big pans.
Never drop a hot pan into cold water. This will buckle it.
If your pan has oak handles, the grain on every piece is unique and each one is branded by hand. They are like fingerprints: no two are identical.
Love your pan and follow our instructions for re-seasoning. Oven seasoning is kinder to the pan than hob top seasoning and it also give a nicer looking finish.
We suggest that you only use hob top seasoning if your oven is too small for your pan or you are re-seasoning your wok.
Your pan will develop with use and, if cared for, will age beautifully and be a friend for life.
We'll deliver your Netherton Wok free to Mainland UK

DPD will notify you of a one hour time slot on the morning of delivery. If next day delivery (for orders placed before 12pm) does not suit, simply choose a convenient weekday by entering it in Notes at the checkout.

Standard Next Day means next working day, so goods sent on Friday will arrive on Monday.

Saturday, Sunday or weekday pre-12pm delivery: £20

For UK offshore prices please click here

(We currently only ship within the UK)
UK Returns

If for any reason you are not happy with anything you buy from us, please return complete with packing and paperwork in perfect condition within 30 days for a full refund. Please contact us first at hello@seasoncookshop.co.uk so we can expect it back. We'll drop you a line when we've inspected and refunded.

Please note: if your order included a shipping charge, this will not be refunded. Where goods are received back damaged due to inadequate packing by you, we will not be able to refund in full.


How to make a return

Simply follow this link, enter the order number you received when placing the order and your email address. Print out your returns label and attach it securely to the original packaging that you received your order in or packaging of similar quality. When sending a return parcel please ensure that any previous shipping labels used are removed or completely covered with the new returns label. Drop it off at any shop offering CollectPlus services – you can find a map of the closest shop offering the CollectPlus service by entering your postcode into the "find a store" search bar at the top of the Collection Point Locator. The shopkeeper will scan your parcel and you will be given a receipt. You can use the code generated on your receipt to track your parcel using the same link. Please send us an email to hello@seasongreen.co.uk with this code to enable us to track your return. Please allow 5 working days for the return to reach us.



If you have any questions or need help, please drop us a line on hello@seasoncookshop.co.uk or give us a call and we'll happily help.



Damaged or defective products

All items must be checked upon receipt of delivery. If there are any defects, breakages or damages you must notify us within 48 hours by e-mail to hello@seasoncookshop.co.uk or write to us on our Contact page. We will usually reply requesting a photograph of the damaged/faulty item. We are unable to replace or refund items if we are not notified within this time period.
In the event of an item being damaged or defective we will offer the following options:
1. Provided it's in stock, we'll send a replacement immediately
2. A full refund
3. Exchange for an alternative product of the same value



Defective products outside of the returns window

In the event that your purchase experiences a product defect after the initial 30 day period please contact us. We'll always try and do what we can to reach a satisfactory resolution and many of our products carry an extended warranty that we can action on your behalf with the manufacturer.
Loading stock locator. If this is taking a while, please contact administrator.
Netherton Foundry Spun Iron 33cm Wok
Not our most expensive wok, but wow - is it a favourite amongst our staff.
Wokkers forever
Most of us have, in our misguided youth, bought a non-stick wok we've thrown away because the (toxic) lining has peeled off. At least once. What a lovely feeling it is to cook with a wok that just gets better with time.
Beyond stir frying
We've enjoyed coming up with all sorts of deliciousness with our Nethertons woks. Check out Hong Kong native Sally from Season Balham's recipe for Braised Tofu and Mushrooms with Pak Choi. Soothing and moreish.
Made with love
The grain on every oak handle is unique and each one is branded by hand. They are like fingerprints: no two are identical.
Look after your wok
Netherton Foundry's recommendation for keeping their wok running beautifully. Clean, dry, rub with a little of this and things will be even better next time round.